Tuesday, August 31, 2010
Ok, we did it! So many people asked for it that
MissC
over at
Life As I See It
and I have decided to host "Bubble Thought" Thursday!
So link up if you want and share your Bubble Thoughts with us all. The rules are pretty simple:
Create a Bubble Thought post and post the Bubble Thought button in it.
Link up your blog.
Follow the hostesses The Bipolar Diva and Life As I See It.
Leave a comment so we can enjoy your thoughts and can follow you.
Follow as many of the blogs as you want.
Follow back those that follow you, It's just the nice thing to do and it'll prevent you from becoming a Bubble Thought!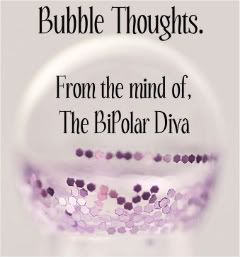 Diva's Bubble Thoughts for the week:
Situation:
I'm trying to read and comment on blogs. Three of my kids are playing word badminton. They're arguing back and forth over nothing.
Bubble Thought:
I really should make three appointments with Dr. Kevorkian.
Situation:
One of my teenagers was talking non stop, again about nothing.
Bubble Thought:
"I wonder at what age it ceases to be child abuse?"
Situation
: Tahoe Dude is tailgating us while we're on the motorcycles. I pull off the road so he can pass. We get around the bend and Tahoe Dude was pulled over by a motorcycle cop.
Bubble Thought:
"Sucka!" I wave at him and smile as I passed.
Situation:
Lady BEHIND me in the line at Starbucks decides her order was more important than mine, I mean come on! She was talking over me LOUDLY.
Bubble Thought:
None. I was too shocked to even think.
Grandson:
After me getting on to him "Nana, if you had a really hot drink and wanted it cooled off all you would have to do is hold it up to your heart."
Bubble Thought:
"I wonder if you taste like chicken."
My 12 yr old:
"I'm moving out my senior year."
Bubble Thought:
"Why wait?"