Sunday, October 10, 2010
Since I haven't been able to write much lately due to things I'm sure would bore you to death, I'm going to do Java's Meet Me On Monday so I can write something. I'll tell you a little of what's gone on here though. I told you all about the bipolar darkness coming my way. In a effort to head it off I started on three new medicines. Not pretty, not pretty at all. I don't do "not pretty."

Here are the highlights, or low lights, of the last week: Sleeping, lots and lots of sleeping. Serious sleeping, about 18 hours a day of sleeping. I'm sick to death of sleeping. Then there were the many near ER visits, lots of doctor consults, weird vision things, and lots of other assorted irritants. Did I ever mention that I detest irritants? Side effects suck, I mean they REALLY suck! I don't have time for side effects!

Ok, enough of that crap, now on to Java's questions.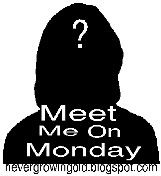 Questions:
1. Do your pants get hung on a hangar or folded?
They're on hangars, lots and lots of hangers. I want my 18 year to move out so I can make his room into a closet.
2. If you are stranded on an Island, what 3 things would you need to have with you (not including humans or electronic devices)?
lots of pillows, iced tea and I'm really pissed that I can't take my laptop!
3. Where is the farthest you have ever traveled to?
All of the US, lots of Mexico, Canada, and Hawaii
4. Do you live in a house, trailer or apartment, etc.?
I live in a house, a big house with too many kids that can't seem to find their way to the theater or billiard room we put in. Instead they like to hang in the living room with us. They're kind of like leeches that way.
5. What is your most hated household chore?
Writing the housekeeper a check.